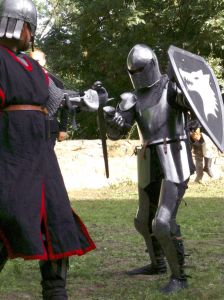 Today, I will teach you all how to win a fight, i.e. beat someone up (but only if they deserve it). These techniques should only be used for self defense and if there is no way out of a fight. The best way to not to lose a fight is not to fight at all. Before we begin, let me go through some basic fight etiquette so we can familiarize ourselves with them.
No man-verse-woman fighting. Women can be vicious, men, so this is for your safety.
No three-on-one fighting unless you are fighting Jet Li. This is for you Hispanics, especially. Don't get your primos Juan and Hector to help you out in your fight.
No kicking in the balls (unless he really deserves it).
No ripping each others clothes. This is not a strip show; it is a fight.
Also, you generally shouldn't hit someone unless they are already aware that you are trying to do so. If they manage to get up after, you might have one angry mo-fo on your behind.
Lastly, do not hit someone after they are incapable of hitting you any more, i.e. if he is on the ground screaming like a little girl. This is generally considered assault even if the other person started the fight.
Alright, now that we know how to be chivalrous let's get started with some actual fighting tips after the jump.
Originally posted 2007-06-29 09:58:53.